TRANSFORM YOUR HEALTH & WELLBEING
We help teachers, school leaders and all school staff manage stress, anxiety and daily school pressures, with practical, research-driven information and training.
Welcome! I'm Maria Brosnan, an educational leadership, health and wellbeing specialist, counsellor, author and coach.
I founded Pursuit Wellbeing to promote the health and wellbeing of teachers, leaders and school staff just like you.
Struggling to sleep?
Download our free e-book, "The Pursuit of Sleep", packed with ideas to help you get the much-needed sleep to carry you through everything you do.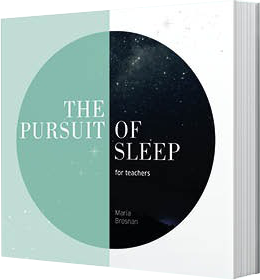 Make time for you
How are you?
You won't be surprised to learn that 78% of teachers and 84% of school leaders experienced symptoms of stress due to their work last year.
You might be here today because you feel anxious, overwhelmed, depressed or exhausted. Or you're responsible for staff who are.
These are normal human responses to stress, but if unchecked can harm your health and wellbeing.
That's why we developed wellbeing training courses, packed with practical, research-driven information to help you better understand and improve your health and wellbeing.
The proven benefits of healthy staff
Good staff wellbeing practices have a number of proven benefits, including:
Staff are more able to manage anxiety and stress with better coping strategies;

Staff feel valued, supported and invested in;

Leading to reduced sickness absence;

Increased productivity and engagement;

Improved retention and increased job satisfaction; and

Positive impact on pupils, including improved educational outcomes.
We offer health and wellbeing training for all school staff.
How can we help you today?

"Maria has supported Elevate Multi-academy trusts wellbeing strategy through a range of training sessions for over 12 months.
She has helped to develop the role of the well-being champions in all the schools and provided key strategies for all the staff across Elevate to manage and prioritise their wellbeing.
Feedback from the sessions has been overwhelmingly positive with staff reporting ways in which they have managed their levels of stress and anxiety as a result of developing a better understanding of the triggers for themselves.
Having an expert leading these sessions has been really important and Maria's approach, sensitivity and wealth of knowledge has led to increased engagement and openness about the challenges that staff were facing."
Narinder Gill FCCT
School Improvement Director at Elevate Multi Academy Trust
Not sure what courses or training you need?
Let's talk through the options.
Our approach to health
We believe that small every day actions have the biggest impact on our health and wellbeing.